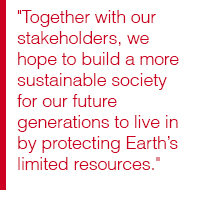 Society is facing unprecedented challenges today. While the world we live in has vastly improved over the last few generations, there is still a need for us to continually deliver innovations that answer society's challenges.
This is where Hitachi comes in.
With more than 100 years of experiences in Operational Technology (OT) and more than 50 years of experiences in Information Technology (IT) and Products, we will make use of Lumada, Hitachi's advanced digital solutions to create unparalleled digital innovation for customers to achieve Hitachi's Social Innovation Business.
With the global rollout of the 2021 Mid-term Management Plan, we hope to provide even more holistic solutions to customers by focusing our efforts on improving three types of value specifically social value, environmental value and economic value through five domains namely Mobility, Smart Life, Industry, Energy and IT.
To date, there has been tremendous growth in Asia, and I believe there is more to come.
Asia is no doubt a dynamic and diverse region with many promising emerging economies. Together with our stakeholders, we hope to build a more sustainable society for our future generations to live in by protecting Earth's limited resources.
As a trusted solutions provider, your belief in Hitachi will help us realise the good things that people dream about. So please believe that we will continue Powering Good to improve people's quality of life through our Social Innovation Business.
Kojin Nakakita
Chairman of Hitachi Asia Ltd.
Chairman of Hitachi India Pvt. Ltd.
Vice President and Executive Officer, Hitachi, Ltd.
Read our Chairman's interview with The Business Times on 21 September 2019
POWERING SOCIAL GOOD